True/False is a project of the nonprofit Ragtag Film Society (EIN: 04-3770411), which also operates the year-round Ragtag Cinema in Columbia, Missouri. Ragtag Film Society is made possible, in part, by the generous financial support of donors who believe in our mission to captivate and engage our communities in immersive arts experiences that explore assumptions and elicit shared joy, wonder, and introspection.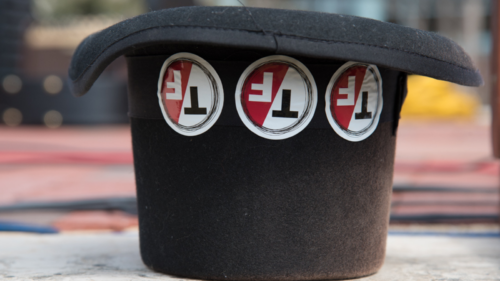 Thank you so much for supporting our organization! Your donation keeps Columbia's film scene and the vital programming, artists, and educators of Ragtag Film Society a thriving part of this community!
If you're able to make a monthly gift, please consider setting up a recurring donation. Scheduled gifts help secure the sustainability of our programs and ensure long-lasting impacts on the arts and individuals of this community. 
Donations may be made through the programs described below, and general contributions are also welcome. All contributions are tax-deductible to the full extent of the law, and general contributions will be shared between the operations of our two programs, unless designated to a particular fund or program. 
The Pay the Artists! (PTA) Initiative is part of a larger effort to create a sustainable ecosystem for nonfiction filmmakers, who often lose money bringing their work into the world. Festivals increasingly act as a de facto substitute for movie houses, and crowdfunding and foundation grants are often not enough to support getting one's film out there. The True/False PTA program exists as a partial remedy to this problem.
Since 2014, PTA donors have enabled T/F to award an honorarium to each visiting filmmaking team, in addition to covering all travel, lodging, and meal expenses. When the program began, we set the lofty goal of eventually providing $1,000 per filmmaking team. We are ecstatic that after six years, we reached that $1,000 goal for the 34 filmmaking teams that attended T/F 2020. We pledge to continue to sustain and grow this program in the future.
The PTA is a tangible way to invest in filmmakers doing great films over the long haul. With it, T/F is seeding a movement of supportive institutions who invest in nonfiction filmmaking futures. We hope that, for more new filmmakers, nonfiction is not merely a launching pad to commercial or fiction work but a viable career path.
T/F is committed to this egalitarian approach of spreading the wealth rather than focusing on isolated awards.
We see ourselves as a petri dish for trying out ideas, including how to best serve filmmakers. The PTA is an experiment, but also a crucial corrective to the lack of resources for independent filmmakers. While the amounts may seem token at first, we see the PTA a growing, important commitment to do more care and feeding of the filmmakers we believe in. If we are not all engaged in making independent filmmaking a sustainable enterprise, we will lose the very voices we exist to champion.
Funds for the PTA are provided through three-year financial gifts of a minimum of $10,000 per year from patrons who care deeply about the future of nonfiction filmmaking. Half of the funds are given directly to filmmakers, and half are used to support the programming activities of the festival.
Jolly Roberstein Foundation
Genuine Article Pictures
Jonathan Murray
For more information about joining the PTA, please contact RFS Development & Communications Director, Stacie Pottinger, at [email protected].
Ragtag Film Society's Legacy Fund was established in 2013 by Bill Bondeson and Linda Butterfield Cupp. It will serve as long-term assurance that Ragtag Cinema and True/False Film Fest will live on in this community.
The goals of the fund are to:
Assure the long-term health, vitality and sustainability of the cinema and fest.

Provide a robust educational media literacy program to Columbia youth.

Assure the cinema and fest remain affordable for the average Columbia resident.
The minimum contribution to this fund is $5,000 in cash or stock.
If you are interested in joining the Legacy contributors, or if you'd like to meet to further discuss in person, please contact RFS Development & Communications Director, Stacie Pottinger, at [email protected].
Many thanks to our Legacy Fund supporters:
Dianna Adkison
Bill Bondeson and Linda Butterfield Cupp 
Diane Booth and Jeanne Sebaugh
Ron and Judy Carter
Marilyn Coleman and Lawrence Ganong
Kathleen Ehrhardt
Barbara Fairman
Michael and Emy Friedman
Bill and Barb Froke
Joanne Fulton
Barry and Pam Gainor
Betsy Garrett
Carol Hurt
Aaron and Nikki Krawitz
Doris Littrell
Amy McCombs
Ann and David Mehr
Peggy and Richard Poe
R. Michael and Susan E. Roberts
Margie Sable
Jerry and Judy Schermer
Sally Silvers
Tom Smith
Charles & Jan Swaney
Vicky Riback Wilson
Harriet and Bill Yelon
D&BJ Family
DIANA LISCUM EDUCATION FUND
A multi-year fundraising goal of $30,000 has been set to establish the Diana Liscum Education Fund to benefit the education programs of Ragtag Film Society, the nonprofit organization of True/False Film Fest and Ragtag Cinema. A retired Hickman High School English teacher, where she taught for 27 years (her former students knew her as Mrs. Rahm), Diana shared hundreds of hours of her time and talent as a volunteer film screener for the festival, and she and her husband were devoted members of the Cinema. Ragtag Film Society is grateful to honor and uphold Diana's legacy for generations to come.
True/False & Ragtag programming empowers students and educators to engage thoughtfully with story. We seek to inspire curious, compassionate, courageous storytellers and audiences who can use narrative to better understand themselves and the world, and to pursue justice in their communities. For more about our programs head to our education page.