For a full and rich True/False experience, we encourage you to buy a weekend pass. The primary benefit of buying a pass is that it enables you to reserve screening tickets before the Fest when the most options are available. Reserving tickets with your pass is the best way to make the most of that pass. Each pass level has a specific time when their ticket reservation window opens—we strongly encourage passholders to note that time and date, and be ready to select your schedule as soon as your window opens. Detailed instructions about this process will be emailed to all passholders prior to ticket reservations.

2022 Ticket Reservation Schedule (times listed in central time):
Super Circle: 6pm, Friday, February 11
Silver Circle: 6pm, Sunday, February 13
Lux: 6pm, Tuesday, February 15
Simple: 6pm, Thursday, February 17
Stay Up Late: 6pm, Thursday February 17 (events and concerts only)
Tickets will go on sale to the general public on Saturday, February 19 at 6pm.
@ The Sager Reeves Fest Box Office:
Wednesday, Mar 2, 12pm–8pm: Passes & wristbands pickup only
Thursday, Mar 3, 9am–10pm: General ticket sales & passholder pickup
Friday, Mar 4, 9am–10pm: General ticket sales & passholder pickup
Saturday, Mar 5, 9am–10pm: General ticket sales & passholder pickup
Sunday, Mar 6, 9am–5pm: General ticket sales & passholder pickup
One of the great things about our new ticketing system is that you can (and should!) plan out your schedule online in advance of ticket reservations opening. Browse through all the ticketed films, concerts, and events; save individual items to MY CALENDAR (we recommend saving both first choices and back ups); and edit as you like any time between the schedule grid going live and when your pass level opens for reservations.
Be sure to do this first step before your reservation window opens to streamline the process of booking!
PLEASE NOTE…If you purchased a "Dual" pass, of any type, you will be able to reserve tickets for that pair of passes at the same time. If you purchased a single pass, you will only be able to reserve tickets for one pass at a time. If you are managing a group of friends or family with more than one pass, you may each want to log-in with your own member numbers and reserve at the same time. If you are reserving for a friend who cannot log-in at the same time, you'll repeat the process below using first one, and then the other of your member numbers.
The step-by-step guide below will show you what to expect. We also have how-to videos (scroll down)!
1. Log-in. Head on over to the ticketing page and click the option to enter your Member Number. (passholders will be sent an instructions email that will include your member number!)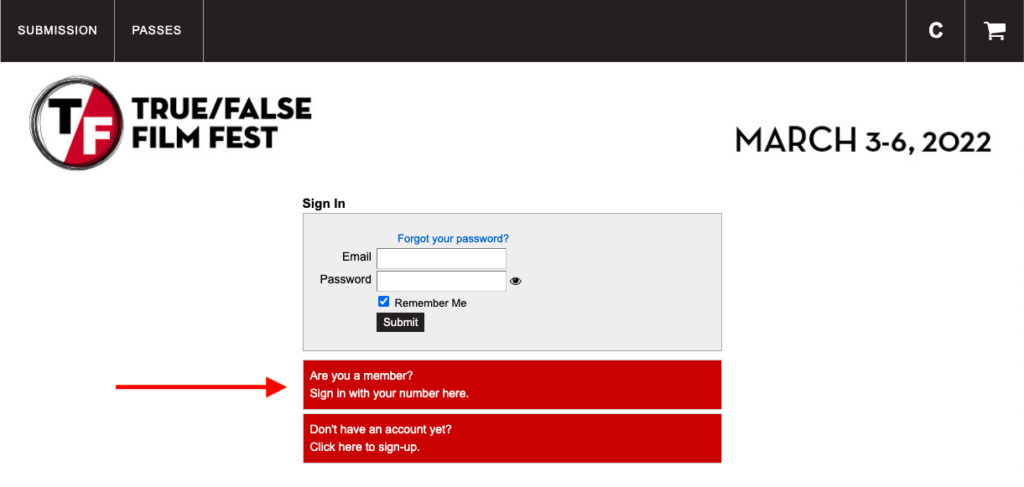 Note: each pass has a different Member Number. (For the Fest veterans out there, it's similar to your purchase code.) Got a dual pass? You'll only have one member number but able to make reservations for two people. To log in, enter your member number and last name.

2. Once you log-in, click on the menu icon at the top left of your screen and select Reservations:
You'll see the calendar of events, starting with Wednesday, March 3rd (you can toggle between each day by selecting the date above the grid). You can save a film/concert/event to MY CALENDAR with the calendar icon at the bottom left of the event's box.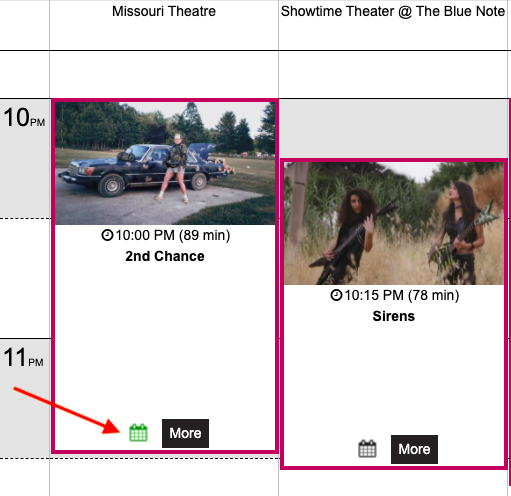 3. Once you've made all of your selections, you can click on your initial in the top right corner of your screen, then select MY CALENDAR.
This view will show you all your saved events!

When it is time for reservations, you'll likely want to bypass the full schedule grid and go directly to your saved list.
4. When you're ready to reserve, click "Buy tickets" under each film on your list that you'd like to book. If your selection has gone NRT (no reserve tickets), this button will not be available. Move on to a backup choice!

In the box that pops up, select 1 as the quantity, and hit "add".
As soon as you add this ticket to your cart, that ticket is HELD temporarily for you until you check out (25 minutes).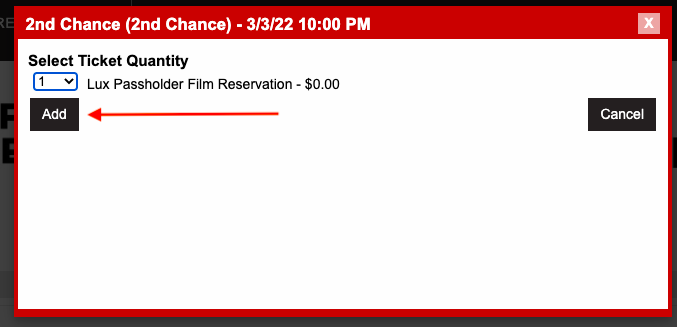 5. Select Return To List to continue reserving tickets, and once you have reserved all of your tickets select Proceed To Checkout.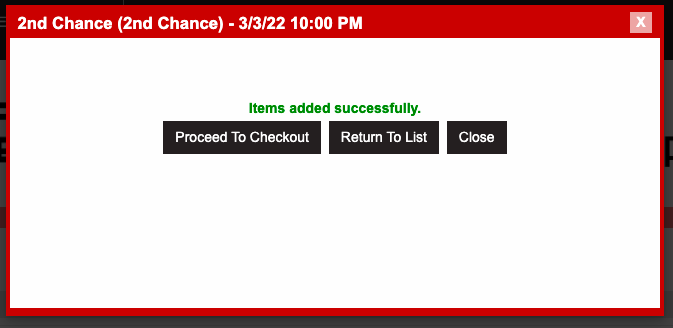 6. This will give you the opportunity to confirm all of your ticket reservations. If it looks correct, click Checkout at the bottom left of the screen: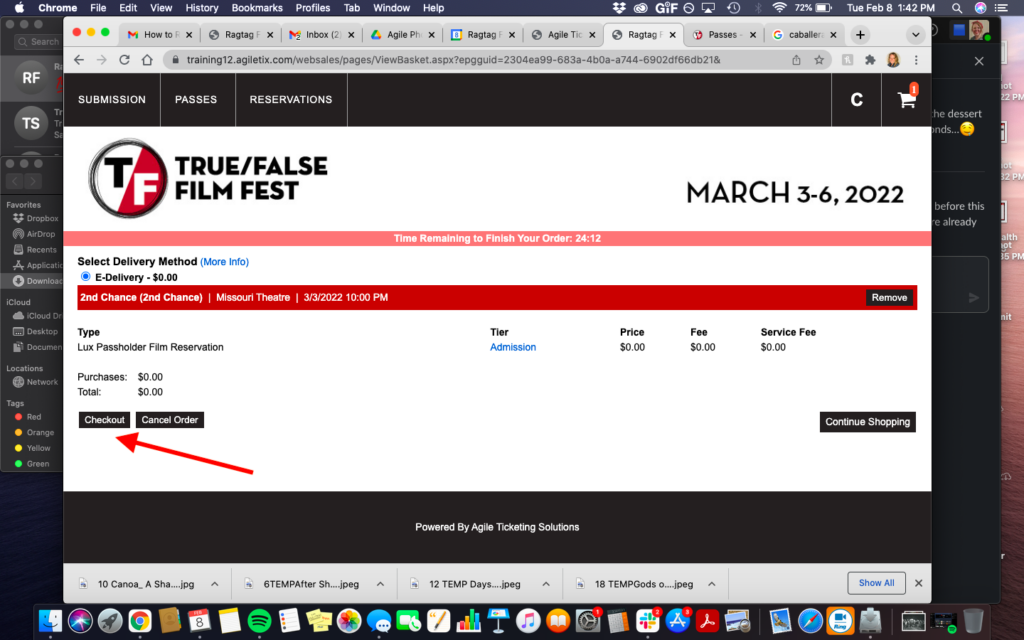 After purchasing, you'll have an option to print your tickets or download them digitally (e.g. Apple wallet). You're welcome to do either, but neither is necessary – your pass will have a QR code that contains all of your reserved tickets and will be scanned at each venue for admission to ticketed events. If you change your mind and edit your selections, this is reflected automatically and stored in your pass's barcode.
You can return to your account at any time between making initial reservations and one hour prior to an event start to release something you no longer plan to attend and book an alternative choice – while tickets remain! Your booked selections can always be referenced later by logging in and going to MY CALENDAR.
INSTRUCTIONS FOR A SINGLE PASS
INSTRUCTIONS FOR A DUAL PASS