Our 2022 theme, IN/VISIBLE VILLAGES, explores what is often concealed—the unseen brought to light, the conspicuous hidden—and aims to inject optimism into our often fraught collective existence, providing paths to build connection with our neighbors near and far.
With these ideas in mind, we turned to Xinmei Liu, whose joyful, colorful compositions belie a complex, layered backstory. Her work is bright and detailed with a style and approach that lends itself to the rich, multifaceted ideas underpinning our 2022 theme, inviting the viewer to both take a closer look and zoom out. Look sharp to find five hidden monsters from around the world.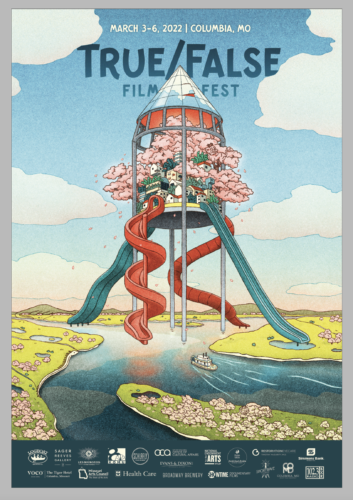 Artist Statement  IN/VISIBLE VILLAGES invoked the vision of a utopian community in classical Chinese literature, which tells a story of a fisherman stumbling upon a peaceful village hidden away at the head of a stream full of cherry blossoms; after leaving, he fails to find the same path again (coincidentally, this story's setting is not unlike the Missouri river winding through blooming dogwood trees in spring). To me, playground slides are a symbol of community—they are the presence of a living neighborhood, where children play and adults bond—and create a one-way movement meant to be experienced alone, much like our protagonist's solitary journey into and out of utopia. At the end of the day, our longing for the ideal world will bring us back to the ground, where we are rooted, and from there we will flourish.
Artist Bio Xinmei Liu is an illustrator/artist/printer based in the New York metro area. She was born in Shanghai, China, and earned her MFA from the Illustration as Visual Essay program at the School of Visual Arts. Her clients include The New York Times, The New Yorker, Amazon Publishing, Scholastics, Medium, Shanghai Museum, and others. Her personal work is mostly focused on her cultural background, social issues, childhood experience, and history.