For a full and rich True/False experience, we encourage you to buy a weekend pass. We don't sell individual tickets in advance of The Fest—the benefit of buying a pass is that it enables you to reserve screening tickets before The Fest when the most options are available. Reserving tickets with your pass is the best way to make the most of that pass. Each pass level has a specific time when their ticket reservation window opens—we strongly encourage passholders to note that time and date, and be ready to select your schedule as soon as your window opens. Detailed instructions about this process will be emailed to all passholders prior to ticket reservations, but following is a visual guide as well.

TICKET RESERVATIONS END FEBRUARY 22, 6PM
2019 Ticket Reservation Schedule (all times listed are CST):
Wednesday, Feb. 6 – Films announced (by 6pm)
Saturday, Feb. 9 – Schedule announced (by 5pm)
Monday, Feb. 11 – Super Circle reservations begin at 6pm
Wednesday, Feb. 13 – Silver Circle reservations begin at 6pm
Friday, Feb. 15 – Lux reservations begin at 6pm
Sunday, Feb 17 – Simple reservations begin at 6pm
Wednesday, Feb 20 – Sunday Spree reservations begin at 10am
All pass sales end & ticket reservations close: Feb. 22 at 6pm
Right after you purchased your pass—and again in the ticket reservation instructions email—the box office sent you a ten character purchase code consisting of letters and numbers. Go to: truefalse.org/attend/reserve, enter your code in the box provided, and click "Submit Purchase Code". Note: if you sign in with your code prior to your window opening, the page will tell you "you're a little early!" and you'll need to refresh the page right at 6pm.
The reservation page brings up a grey box in the upper lefthand corner, which tracks your reservations in real time. Super, Silver, and Lux have unlimited tickets (one per time slot, per pass), while Simple can reserve up to ten, and Sunday Spree can reserve 1.
The rest of the page will display the list of all film screenings, in chronological order, categorized in time slots.
Here, Thursday Afternoon is the first available time slot. Before tickets are selected, each screening has a button that says "Reserve Now". Click that to select a ticket. There is no 'shopping cart' with a check-out at the end—the ticket is held for you immediately.


You will be able to reserve one ticket per time slot. (i.e. you can not get tickets to multiple films playing at the same time.) Remember, Simple passholders' page will begin with Friday time slots and Sunday Spree will only show Sunday time slots.
Alisa and Chris have their passes linked. If they want to log in with their purchase code separately, and each make their own film selections, they can do that! Or, they can reserve together. Above, they opted to go to different films in a time slot: the orange box is tracking Chris' films, and the blue box is tracking Alisa's.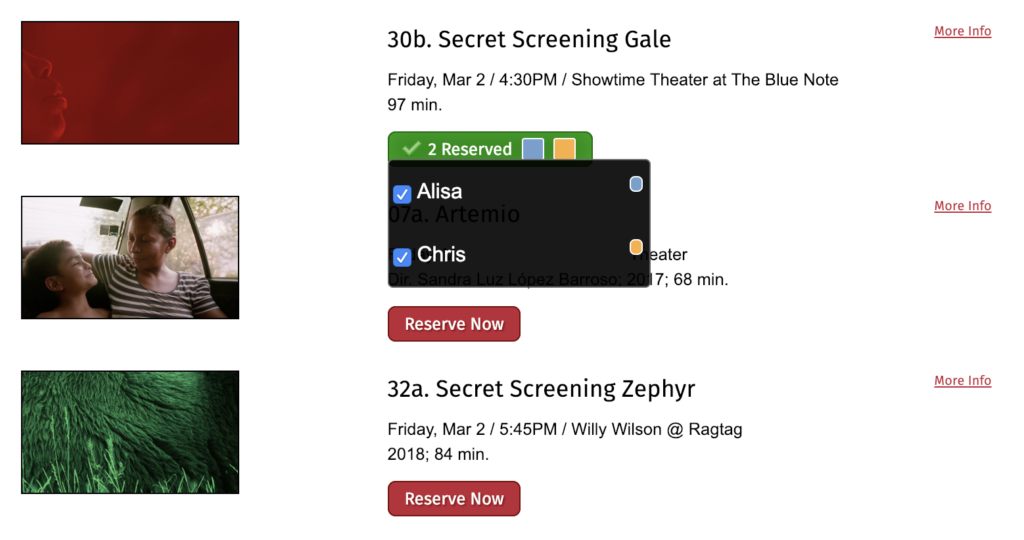 In this next time slot (seen left), Chris and Alisa have chosen to go to the same film. If you are reserving for more than one person like this, when you click "Reserve Now", you will need to check the box next to each passholders' name to book them each a ticket.
Scroll through the time slots, and make your selections. Or, jump around to select tickets you're most keen to reserve! Screenings that do not have tickets available will be greyed out, not selectable, and say "NRT" (no reserve tickets) instead of "Reserve Now".
Completing Reservations & Viewing Schedule
Once you have completed your selections, scroll to the bottom of the page and hit "All Done":


The following page will give you the option to print or email yourself your full schedule, as well as a summary of your film selections. 
At any point, you can log back in the pass reservation page to see your schedule. 


Use our group scheduling app (coming soon!) to view your schedule on your computer, tablet or phone. You can add your friends to your schedule, so it's easier to see when you can meet up at a screening.
It happens! After making your reservations, you have 24 hours in which to return to the reservation page to make changes. You can sign in any number of times within that window; just re-enter your purchase code and select a different option where desired. Once the 24 hour window has closed, your ticket order is final until the box office opens. All ticket reservations end at 6pm on Friday, Feb 22. 
All passes and reserved tickets will be available to pick up at the T/F Box Office.
Wednesday, Feb. 27: Noon-8pm
Thursday, Feb. 28-Sat Mar 2: 9am-10pm
Sunday Mar. 3: 9am-5pm
Monday Mar. 4: 9am-5pm for MERCH sales!
Location: Sager Braudis Gallery at 1025 E. Walnut Street.
Email: [email protected]
Phone: 573.442.TRUE(8783)