Since its beginning, T/F has served as a font of ideas, with most of them bubbling up on screen. But now non-filmmakers inject new ideas into the festival's bloodstream and attempt to rearrange our worldviews. Rather than sequester these big thinkers to the fringes, we place them front and center, and sometimes invite them to jump on a soapbox for pre-film rants. We are re-inventing the idea of panels as more intimate conversations and playful show and tells. We're also delving more deeply into the frontiers of interactive transmedia, showcasing artists and storytellers who've jumped the fences of traditional platforms.
FIELD SESSIONS
The festival panel is a tired tradition and T/F is doing its part to jettison them once and for all with our intimate Field Sessions. These close encounters between two (or three!) artists provide an unsurpassed intimacy that can't be achieved in a multi-person panel. Each session is a deep dive into the ideas that shape nonfiction filmmaking in 2018 and will be live recorded for the True/False Podcast.
All Field Sessions take place in the Little Chapel at The Picturehouse, 204 S. Ninth St., and are free and open to the public.
Rebirth
Friday / 1:30pm
With Dorottya Zurbó, Arun Bhattarai and Alissa Wilkinson
Dorottya Zurbó and Arun Bhattarai embedded within a Bhutanese monastery run by the same family for 11 centuries in their tender first feature, The Next Guardian. Alissa Wilkinson is now a staff writer and film critic at Vox, after her previous post as a critic-at-large for Christianity Today. Together, they will examine the resonances of creating contemplative work at odds with fast-paced modern life.
Reconstruct
Friday / 3:30pm
With Fellipe Barbosa and Matt Holzman
Fellipe Barbosa (Gabriel and the Mountain) built his latest film around the remnants of his friend Gabriel Buchmann's life, from his photographs to excerpts of his diary. Matt Holzman's podcast, KCRW's The Document, extracts new audio stories from the footage of documentary films. Fellipe and Matt share how they sift fresh work out of unfiltered raw material.
Rejoice
Saturday / 1:00pm
With RaMell Ross and Leilah Weinraub
Over years of editing, both Leilah Weinraub (SHAKEDOWN) and RaMell Ross (Hale County This Morning, This Evening) found themselves migrating away from conventional cinematic languages. In this conversation they discuss how they are seeking to reshape documentary grammar and expand the way films view black bodies.
Reflect
Saturday / 3:00pm
With Kim Hopkins, Erick Stoll and Chase Whiteside
Directors Kim Hopkins (Voices of the Sea), Erick Stoll and Chase Whiteside (América) spent significant time with their subjects, close-knit families in Cuba and Mexico, respectively. Join these three as they consider the many things they have in common, from their Spanish-language immersions to their experiences at True/False and Catapult Film Fund's Rough Cut Retreat.
PROVOCATIONS
The Provocations are a mini-Ideas Fest within True/False. After months of searching, our team located five people from a variety of backgrounds and disciplines, all with challenging ideas and provocative presentation styles. Paired with a feature film in our program, these folks stand ready to rearrange your worldview with the power of words.
Aja Romano: Drawing upon her background in fandom, Aja writes about internet culture for Vox. Her reporting provides insights into geek culture from written fanfiction to the dark recesses of Reddit. Provocation before screenings of The Next Guardian.
Danny Giles: After graduating from Hickman High School, Danny moved to Chicago where he works as an interdisciplinary artist and educator. His performances at distinguished museums and galleries question the power dynamics of systems. Provocation before screenings of La Flor de la Vida.
Miko Revereza: Since relocating from Manila as a child, Miko has lived undocumented in the United States for almost 25 years. His films, writing and art practice are all influenced by his ongoing problems with documentation and the exclusion it imposes. Provocation before screenings of Won't You Be My Neighbor?.
Nicole He: Nicole uses technology to make art about technology. She playfully transforms both digital mediums and physical objects to explore the relationship between humans and computers. Provocation before screenings of Secret Screening Zephyr.
Paul Bloom: A prominent psychologist, Paul's latest book is Against Empathy: The Case for Rational Compassion. His groundbreaking work convincingly makes counterintuitive arguments about morality, religion, art, and how we understand the world. Provocation before screenings of Love Means Zero.
CHAUTAUQUA
Sunday, Mar 4 / 9:30am - 11:00am / Rhynsburger Theatre and Bingham Gallery
Join our piquant Provocateurs, host Logan Hill, and some surprise guests for a variety show featuring provocations, music, and storytelling. Immediately following, the conversations continue in the Bingham Gallery (right across the hall) with a high tea.
PODCAST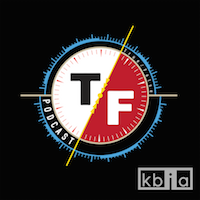 Now in its second season, the True/False Podcast features a conversation between a Fest curator and a filmmaker. The podcast is in collaboration with KBIA, Columbia's NPR affiliate station, and students at the Missouri School of Journalism.

Conversation center on an aspect of nonfiction storytelling – such as building character, the subject/filmmaker relationship, gaining access – and offers insider insight into the making of today's most cutting-edge nonfiction films. Recent interviews include Sandi Tan (Shirkers), Pete Nicks (The Force), Kitty Green (Casting JonBenet), Chico Pereira (Donkeyote), and more.
You can find the True/False podcast on kbia.org, iTunes, Stitcher, or wherever you get podcasts.
TRANSMEDIA
Located at Columbia Art League // Thursday, 5:30pm - 8pm / Friday, 11am - 8pm / Saturday, 11:30am - 9pm / Sunday, 11am - 8pm
Presented in partnership with Scenic VR and Gravity
It Must Have Been Dark by Then (Duncan Speakman; 2017; Interactive)
Equipped with a mobile phone and a paper book, this walking tour guides participants with evocative music, narration and field recordings. Close your eyes and let the streets of Columbia give way to the swamplands of Louisiana, empty Latvian villages and the edge of the Tunisian Sahara. These stories and sounds will lead your way in constructing a personal map.
Bloodless (Gina Kim; 2017; VR)
This 360 film, shot on location in a Korean "camp town" — lawless zones located adjacent to US military bases — follows a real-life sex worker in the hours leading up to her brutal murder by a US soldier at the Dongducheon Camptown in South Korea in 1992.
Indian Giver (Sydney Pursel; 2011; claw machine)
Reclaiming the offensive term in a playful way, Pursel's Indian Giver gives stereotypical representations of Native Americans back to mass society.
Friend of a Friend (Kate Gorman; 2018; Interactive)
A fictional memoir about unsteady remembrances of the past and the challenges of reconnection. In this unique augmented reality (AR) experience, you can piece together the story of a college friendship through emails, photos, and audio recordings via a smartphone app as you navigate downtown Columbia.
The Summation of Force (Narelle Autio, Trent Parke, Matthew Bate; 2018; VR)
With a nod to Eadweard Muybridge and the early days of photographic motion capture, this eerie black-and-white collage inhabits a virtual space to illuminate the physical and psychological components of the game of cricket.
Materialities Montage Mixer (Gary Stewart; 2007; Interactive)
This participatory experience explores the ways in which the Black Audio Film Collective (1982-1998) constructed their groundbreaking experimental non-linear feature films and tape-slide installations. The Materialities Montage Mixer invites viewers to re-work and re-appropriate archival and found material in a participative process which characterised the Collective's interest in 1980s British politics and art.
Bethlehem (Jesse Epstein, Andrea Rollefson; 2018; VR)
Once a booming steel mill in which workers fabricated the materials for the Empire State Building and the Golden Gate Bridge, the sprawling Bethlehem Plant has since been converted into a casino. This poetic exploration of a changing city confronts the past and future of the American workforce.