There persists an enduring faith in the capacity of cinema to close chasms, to transport audiences – not just temporally or geographically, but to bring them closer to another way of life –  and (ideally) express the things that cannot be said so well as they can be seen. To whatever extent this can be true, documentary is perhaps more prone than most to romanticizing this bridge-building, with its presumably more truthful accounts of the world, even though the subjects of its analyses have rarely been in charge of their own stories.
This year, under the direction of programmers Jeanelle Augustin, Amir George and Chris Boeckmann, True/False Film Fest launched its inaugural PRISM initiative: For two days, fifteen rising filmmakers of color presented their current work in production for each other and a selected few established arts and independent film industry figures. They discussed their artistic ambitions, the questions that informed their work, and sought direction from their peers in a space conceptualized as a collaborative response to the competition and power dynamics that typically drive pitch sessions. The tacit experiment of this forum hinged on their shared positionality: What measures had these filmmakers taken to bend an historically antagonistic form to their use? What would they say now they didn't have to explain – carefully, cautiously – the dimensions that usually set them apart from decision makers, once in rooms where the same dimensions drew them all together, that is, their common experience as part of racialized communities?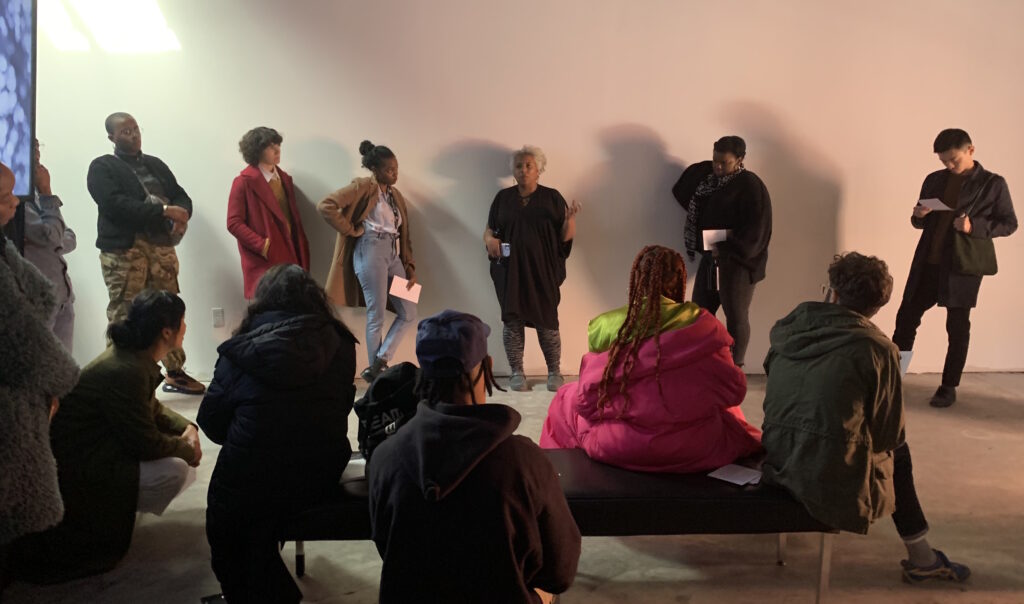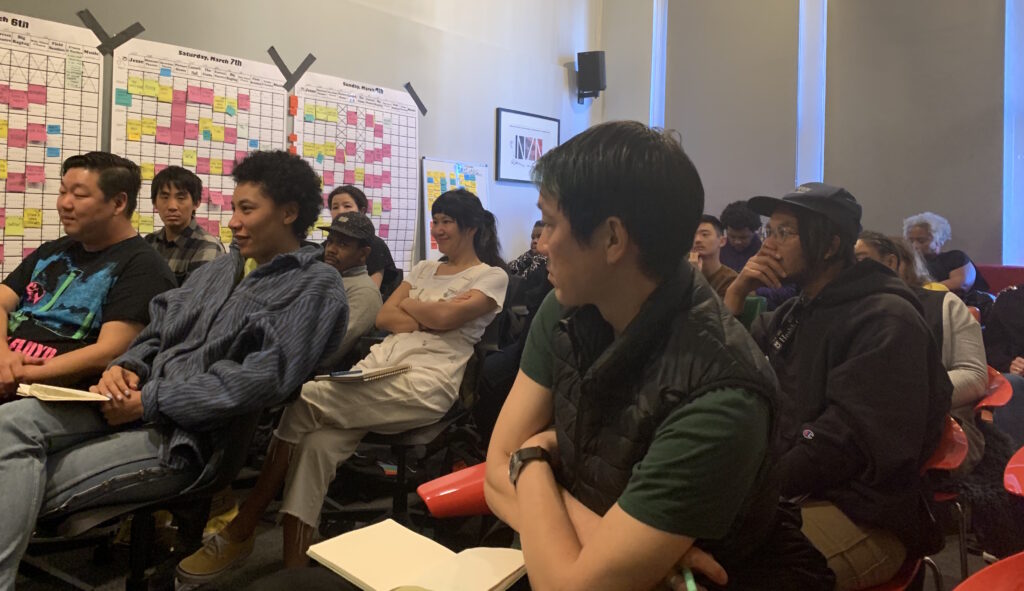 For one thing, they could emphasize craft over delivery. PRISM was purposefully designed without a funding incentive, democratizing the exchange between filmmakers and industry guests, and relieving pressure on the former to "sell" their projects. This was egalitarian ground to probe more open-ended ideas. Directors could speak informally, not just about the central themes that scaffolded their films but their methodology, its pathways or limits, and what the mode can do.
Certain connections began to emerge almost immediately. Across a sweeping range of subjects, diasporas, and even cinematic traditions, there surfaced a preoccupation with forgotten histories. Predictably perhaps. Documentary filmmaking has deep roots in colonialism, the spirit of expedition, and conquest. It's a practice built on recording the "curious" nature of the Other – gender, class, or culture – as directed almost exclusively by white men for Western audiences under the guise of science and altruism. It so happens far more stories have been left untold, and the invited creatives were all keenly aware of this legacy. It haunts each project and remains present at the forefront of their labor. At the same time, nonfiction is especially elastic terrain, perhaps most suited to filmmakers from the margins, historically underrepresented and so, naturally, concerned with the archive and writing into respective silences. The search for long buried things, the urge to fill in enduring blanks or to restore the missing by exposing the gap – in language, in justice, in memory – broadly united the would-be features and directors as they decided what kind of filmmakers they wanted to be.
Far from the solitary auteur figures of decades past (your Michael Moores and your Werner Herzogs, et. al.), a more self-conscious documentarian has emerged in recent years, one who acknowledges the lens and the tricky ethics that sometimes gets in the way of drama, but also concedes his or her own innate subjectivity. In large part this has made nonfiction arguably the most exciting and original frontier for storytelling today. The 2016 film Those Who Jump, for instance, officially directed by German filmmakers Moritz Siebert and Estephan Wagner, was shot and chronicled by Malian emigrant Abou Bakar Sidibé, the presumed subject of the film, although ultimately all three would receive director credits. As artists who themselves hail from communities that have long been cinematically exploited if not widely overlooked, PRISM's attendees, too, seemed more drawn to the role of collaborator, even respectful – rectifying – researcher. If the conversations that took place over those two days could be characterized generally at all, it is by this determination to disrupt objectifying canonical imagery.
Their awareness of the spectacle so frequently made of their own and others' raced and gendered bodies prompted a conscientious, sensitive approach to their subjects. In their film Solís, Hielo y Sol, directors Mustafa Zeno and David Saehoon Chun follow Los Angeles-based family man Jair Solís as he rebuilds his life after being detained by ICE. Zeno and Chun flout the tendency to reduce the experiences of immigrants to monolithic news stories by working closely with the Solíses – employing their friends and locals as crew – to develop the most honest account of a family recovering from trauma. This collective authorship undeniably lends the film credibility, in an ideal (but far from the lone) solution to the issue of ethical representation. Questions about responsibility to subjects and their communities – whether the directors belong to them or not – echoed across all projects. Rajee Samarasinghe also intimately involves the Tamil survivors of the Sri Lankan civil war in Your Touch Makes Others Invisible, where he examines the traces left by the lost residents of a small community in Jaffna. In Celeste, director Naima Ramos-Chapman tries to locate a mysterious sex worker she met in a Miami bar. The efforts to portray a vulnerable class with a complexity rarely afforded them are subtle; a closeup of one woman's pronounced yawn as Ramos-Chapman interviews her offscreen shatters presupposed conditions of power in one understated shot. She exists beyond the director and her purposes; the conversation becomes poetically authentic.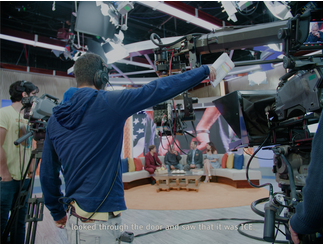 These ethical anxieties seem to flow from a shrewd investment in intimacy, the kind filmmakers forge in production and map for the screen. If nonfiction ethics were once a tertiary concern – now more and more integral to a film's diegesis – they nevertheless tend to have profound artistic consequences. Building rapport behind the scenes translates, in the way characters respond to the director and by extension the camera. But it was widely important to this crop of directors to protect their subjects, even as they calculated ways to bring audiences closer to them and reshape conventional – colonial – ways of looking.
So relationships are all at once deeply personal and expressly political: the unexpected connection between strangers as much as the disconnect between generations of family. Stephanie Wang-Breal must restage the past – literally walk in her mother's shoes – to get at the depths impossibly remote to her in childhood. In Florence, wearing her mother's eighties era knitwear suits, Wang-Breal traces Florence Wang's trajectory from immigrant housewife to local celebrity chef, and discovers the ways she not merely survived but flourished. Early footage reveals the mother-daughter relationship often naturally resembles the director-actor dynamic (in addition to the ironic role reversal, the director is directed by her mother), because so much of womanhood already requires performance and costume. Navigating the social toll on female interiority through performance recall recent ventures by Robert Greene – Actress (2014) and Kate Plays Christine (2016) – but is especially handy here where the act of becoming is elevated by kinship; now a mother herself, Wang-Breal can weave cultural and ideological dualities into something both intimate and ubiquitous.
Likewise, Zac Manuel's Anonymous takes the precarious rules of communion between Black cisgendered men as an avenue to explore what breaks through the crippling effects of patriarchy. How do Black men and boys, confined by traditional notions of masculinity, reckon with intimacy; more specifically, how do they physically touch each other? His project provoked some of the most passionate debate, about the parameters of gender and the audience the filmmaker, consciously or unwittingly, constructs. Manuel's footage strikes a tone similar to Ramell Ross's acclaimed feature Hale County, This Morning, This Evening (2018), particularly in its attention to the banal and the vital influence of photography. Seeds, Brittany Shyne's portrait of Black landowning in rural Georgia, owes a lot to still photography, too, with gripping black-and-white imagery that visually folds time; watching an elegantly framed old man perched mutely on his front porch, there's the sense that this could just as easily be happening decades earlier. This is strategy, not unlike Norbert Shieh's Preserves, where again agriculture takes center stage with exquisite, elongated shots of planting during crop season in Taiwan. This meditative look at food production mingled with vignettes about the domestic lives of the workers takes the same observational, slowed down approach as Shyne's work. Fittingly, both projects rely on place to examine cultural inheritance and the seemingly everyday efforts to preserve – if, to varying degrees of success – legacy. How better to convey the precious things that time has built than with unhurried glimpses into the quotidian.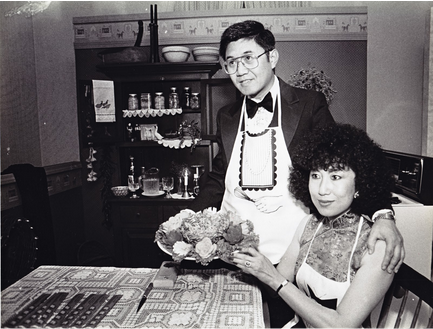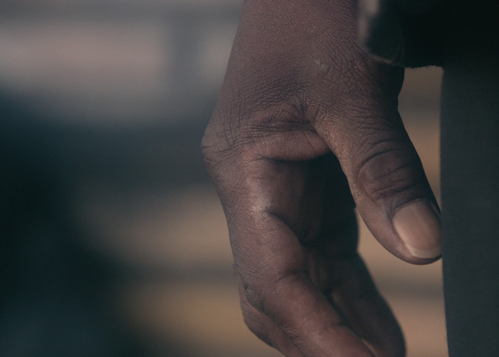 Ilana Coleman's The Inventory follows those cruelly cheated out of legacy, with little institutional or even vernacular recourse: the Mexican families looking for their forcibly disappeared loved ones find both bureaucracy and language woefully inadequate to address their situation. Coleman affirms their loss through the operations of a committee of linguists in her layered endeavor to announce and image the illegible. Peng Zuqiang has a similar task before him in Inauguration, about two Chinese Cubans' mysterious journey to America for the inaugural congress of the Young China Association, an underground revolutionary group with a murky past amidst the backdrop of an assassination attempt. Jazmin Jones sets out to revive the memory of the real woman whose likeness inspired the popular typing software in Seeking Mavis Beacon. The real "Mavis" disappeared in 1995, and Jones's feature promises to reinstate her in popular culture using its fragments (celebrity interviews, film clips) in a critique of the tech industry's consumption of marginalized bodies. These films respond to a particularly fatal power institutions wield, a power filmmakers are uniquely placed to remedy: mythmaking. And when the state has sanctioned forgetting, film can make undone histories whole again. 
For better or worse, representation walks arm in arm with the unknowability of spectatorship. The filmmakers prioritized audiences of color, and how to strike a balance between representing trauma and levity. Comedy is crucial to the argument staged by Never Settle, a multi-part project that includes a film and public recruitment campaign by filmmakers Adam and Zack Khalil and Jackson Polys. The video invites potential candidates to become "informants" for the New Red Order (NRO), a "public secret society" (complete with a website for enrollment) which encourages conspirators to examine their "desire for indigeneity" – renounce, for instance, the cultural appropriation entwined in the fabric of events like Coachella and Burning Man – to "give [land] back" and ultimately reimagine their relationship to indigenous peoples and their cultures. The film comically plays on its audiences' guilt, courting, if not convicting, a white gaze and inviting viewers of color to share in the humor.
One major question that developed during these PRISM talks was what gets in the way of truth? Is it form, filmmakers, protagonists? Is truth subjective? Ironically, nonfiction cinema has long been considered most trustworthy because it is anchored in reality, and so suggests transparency. But all films require architecture, particularly the ones that seem the most restrained, like Jessica Kingdon's as yet untitled project. With refined, observational camerawork, she unravels the paradox of the ostensibly communist China and its increasing consumer-driven excess, depicted through cycles of production, consumption, and waste.
The more established artists in attendance encouraged the emerging filmmakers to keep defying the bounds of the mode. Director Lyric Cabral presented clips from her own work in progress The Rashomon Effect, a penetrating investigation of the fatal shooting of unarmed teenager Michael Brown. Elissa Blount Moorhead ushered everyone through her extraordinary four-channel installation – developed with cinematographer Bradford Young – Back and Song. Each station displayed montages composed of contemporary and archival footage featuring methods of healing and wellness (especially alternative measures away from the often inaccessible structures of Western medicine) across the Black diaspora. Video essayist Kevin B. Lee presented a series of video letters exchanged with collaborator Chloé Galibert-Laîné that gave way to the most complex and cathartic conversation of those two days, impossible to capture adequately. Their foray into audiovisual terrorist propaganda sparked discussions of "weaponizing" empathy and the more somber realities of labor, the exhausting nature of constantly recalibrating inherently political art, knowing those methods can be co-opted by the very forces they all strive to dismantle.
It was discussions like these that made PRISM such a fascinating and ultimately productive space. Every filmmaker was impressively talented and each proposal distinctive, primed to join a remarkably adventurous era of nonfiction cinema. But crucially the programmers at True/False provided a space where the filmmakers could foster the art of evolution, to define their convictions but also squarely face ambiguity, in short to redefine and uproot. They'll be in good company.  
Kelli Weston is a film critic who has written for Film Comment, Hyperallergic, and Mubi Notebook among other publications. She has a Master's in Film and Screen Media from Birkbeck, University of London.