Video: Running Stumbled is available free streaming at http://mubi.com/films/3733 A simple registration is required
For most of us, most of the time, our lives seem completely synonymous with our purposes: our hopes, plans, attachments, reasons, worldviews, ethics, loves. John Maringouin's Running Stumbled confronts us with the specter of human beings lacking all of these things. The film's subjects, Johnny Roe and Marie, go on talking and breathing and living, but in a state of complete and utter purposelessness. That they are alive (for the moment) is merely a biological fact and nothing else. "What's tomorrow," Marie asks Johnny at one point. "Day after today," Johnny replies. We meet them in the squalor of the Louisiana home they share, hopelessly addicted to prescription drugs, hemmed in on all sides by the garbage they let pile up around them. We learn from the paintings on the walls, and the few photograph scattered amidst the trash that Johnny was once a prolific painter and Marie was once his beautiful muse. Weird cultural artifacts from the lives they opted out of, songs and books they must have once cared about, pop into their minds occasionally. These fragments now only serve as morbid jokes. These days they lay around and spit insults back and forth at one another as they drift in and out of coherence. Marie seems to particularly enjoy reminding Johnny about dead friends. But Johnny doesn't seem to mind too much. As horrible and vicious as their mutual hatred is, they seem at times detached even from it. Marie is dying of cancer, and the pair talks about death like we talk about the weather forecast. "You aint goin' nowhere. You aint doin' nothing, so you're dead," Marie tells us flatly. Later the couple is joined on screen by the confused and violent Uncle Stanley. His mother is dying as well and waits for the end watching Wheel of Fortune.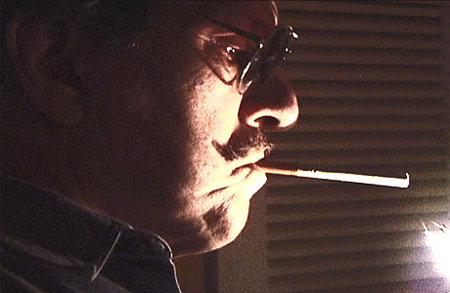 The Roe home is the place where filmmaker John Maringouin was born, and Johnny Roe is his estranged biological father. Johnny was once charged with the attempted murder of his son after totaling a car he occupied with a crow bar. John Maringouin, at the time of filming, hasn't seen his father in three decades. So what then is Running Stumbled? Why was this homecoming filmed? Maringouin offered this answer: "I'm not so constituted to be able to take on an experience like that, at least the first time, without camera in hand . . . . In fact, there's very little to me that's understandable about life, or even bearable, except the seeing of it. I have managed my whole sight by making films." The idea that Maringouin was forced into filmmaking out of a need to distance himself, using his camera as a shield as he tried to understand where he came from, is very convincing. Any yet, I can't help but to be tempted at times to view Running Stumbled as something more aggressive, as some sort of assault, as an act of cinematic revenge. Whatever emotions the filmmaker feels towards these people, he ultimately he manages to keep them to himself, even as he appears on screen with them. Even the his most direct confrontation of his father at the film's climax seems to me ultimately ambiguous.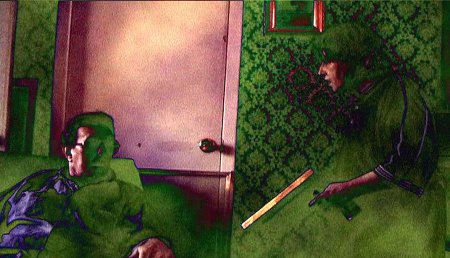 That Maringouin remains in a sense detached from Johnny Roe, Marie, and Uncle Stanley should not in any way suggest that the filmmaking is passive. To the contrary, we are thrown head first into the wreckage of their world through a variety of ambitious techniques. The characters are revealed to us through a series of swiftly edited handheld close ups. This sort of technique is reminiscent of Cassavetes and his studies of human faces in the throws of our most extreme psychological predicaments. Yet where Cassavetes frequently seemed interested in capturing the moment where his characters where overcome by self-conscious reflection, Maringouin's subjects/characters seem completely beyond any form of embarrassment. The picture is frequently tinted, overexposed, or intentionally grainy, and the soundtrack assaults our ears with the sound of a distant chattering television or radio, mixed with numerous other unidentifiable noises. Trips to the supermarket to obtain more painkillers are accompanied by gleeful, unnerving horns. Perhaps Maringouin's biggest coup is the subtitling of all of the dialogue. This may just seem a pragmatic decision given how much of the dialogue is slurred. However, the device serves to heighten the film's intensity in that all of poison words spoken by Johnny and Marie seem to hit us twice. Lines like "you didn't drink your animal since two days ago" reach our brains through both through the ears and the eyes as we scramble to make sense of them. The cumulative effect of all of this is a film which is frequently, god help me, beautiful. Running Stumbled's beauty is alarming and inexplicable, but it is also undeniable.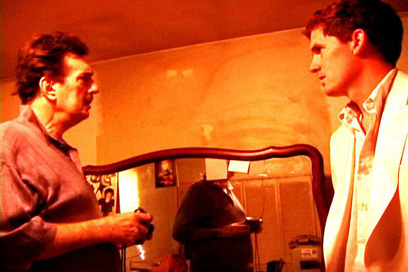 The film's epilogue seems to give us some sort of happy ending. We are visually freed from the claustrophobia of the Roe house, and ears are rewarded with the sound of jazz. Then we see that Johnny Roe has too been freed. What are we to make of this? Did Maringouin feel the need to go easy on us? Should we assign the film or the act of filming a causal role in these changes? Can the whole thing be seen now as radical therapy? Why do I doubt Johnny Roe's return to humanity? Is it in order to distance myself from him? Certainly I couldn't ever fall this far?