Posted: 6/1/11
In 2009, filmmakers Richard Parry and Vaughan Smith brought their brutally intimate film
Blood Trail
(since retitled
Shooting Robert King
) to True/False. Their fascinating documentary—now out on DVD—tracks famous war photographer Robert King for fifteen years, skillfully documenting his transformation from naïve art school grad to a scarred veteran of the battlefield. King

accompanied the film at True/False, where he met

wT/F editor Elliot Reed. Reed recently reconnected with King via telephone.
I met war photographer Robert King at True/False shortly after seeing Blood Trail, Richard Parry's riveting portrait of King. He was standing outside of a club on Ninth St., and I approached him, curious if he knew my old friend Dave Brauchli, a war photographer who had also covered the Bosnian war in the 1990s (the answer was 'yes,' Dave had taken Robert—then fresh out of art school—under his wing during those violent years). In our short conversation, the soft-spoken Robert struck me as a wise and engaging human being: a perfect documentary subject.

This past September, I reached out to Robert to see what he had been up to since True/False 2009. Robert currently lives in Tennessee, where he sells pictures and shoots Civil War battle reenactments on his off-time. He still can't shake the urge to be in the most dangerous places with a tool far less lethal than most of those around him.
A postscript: In the months since our interview, we have lost two incredibly courageous and heroic war photographers:

T

im Hetherington (co-director of the True/False 2010 film Restrepo) and Chris Hondros, who were killed while working in Libya.

We reached out to King to hear his perspective on this great loss. He

called Hetherington and Hondros

"two of the best photojournalists to every to grace our profession," small-town men who "bet big on their dreams and won." "Chris and Tim will be missed," he continued, "and we should never forget their sacrifice, commitment, courage, integrity, and honor they displayed on battle field and lived out in civilian life."
T/F: Where are you?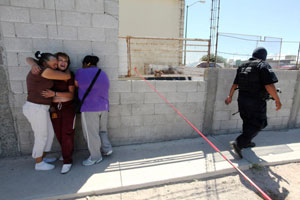 King: Juárez. I'm about to leave for Tennessee.

T/F: Wasn't another photographer just recently killed there?

King: He worked for El Diario – the only paper down here that's still got the guts to cover the drug violence. His death was the reason I stayed three days later than I had planned. His name was Luis Carlos Santiago. He was a photo-intern. He was gunned down in the parking lot of a mall right around the corner from where I was working. His death hit really close to home, since he was 21, and he had the same aspirations as I when I started shooting at age 24.

T/F: That brings the number of journalists murdered in Mexico to 30 since 2006. How do you stay safe when the police force there is powerless to stop the constant violence?

King: We've got to travel in groups. We don't walk much and never at night. I spend time primarily with reporters from El Diario. A group mentality is the most important thing to have here. Juárez is especially difficult to make sense of, as there is no front line. In Bosnia or Iraq, there were front lines.

T/F: The majority of laborers in Juárez work at the maquiladoras (manufacturing plants on the border or Juárez and El Paso) making cheap goods for sale in American and Chinese superstores. Current or former maquiladora workers make up the majority of deaths in gang violence. We're told that these gangs deal in drugs. It's been suggested by one writer that Juárez is a "laboratory of our future," that places like it are caused by a western society obsessed with consumption of cheap goods, and that more Juárezes are in the making. Do you agree?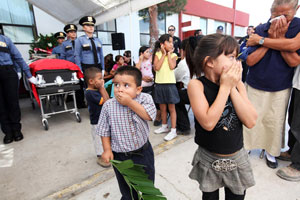 King: Yes, but it's more complicated. It's a matter or people needing to feed their families and doing anything they can to make that happen, including murder. The gangs don't just deal in drugs, so legalizing drugs in the U.S. wouldn't shut down their business. There's no real interest in American media about this, beyond the Dallas Morning News and the El Paso Times. This is really a politically loaded issue, since it is also tied up in illegal immigration. The television media covers illegal immigration, but not the violence south of the border. Celebrity journalists can't get into Juárez, since they travel with armed bodyguards, and Americans can't carry guns here. There's no Anderson Cooper here to cover it for an entertaining CNN piece. Americans who want to educate themselves about it must use the internet.

The scariest thing about what's happening in Juárez is that, now, about half of the maquiladoras are shut down. Unemployed people have got to join gangs or sell drugs to pay to feed their families. When you've got a family to feed, you'll do anything. People are the same everywhere. This insanity could occur in Tennessee given the right conditions.

T/F: Most of the pictures I see coming out of Juárez look pretty much the same. A dead body, or dozens of dead bodies, police with big guns and ski masks, and people crying. What kind of pictures were you looking for in Juarez?

King: I did shoot lots of those pictures. Usually, they're taken from behind a police line, since I would heard about an incident over police scanners and they'd be there before me. I took some photos of the funerals and the mourning families I was particularly happy with, since they showed the impact of this conflict from another angle. I covered a speech given by the mayor of Juárez to an empty parking lot. That was surreal. People were too scared to show their faces there, since that could make them a future target.

T/F: Were your pictures picked up by any U.S. media?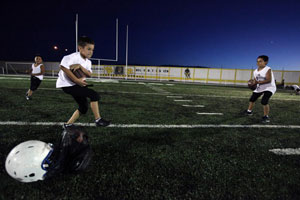 King: Photojournalism is not what it used to be. Newsweek is in dire straits, and Time Magazine pays peanuts. Trouble in print journalism leads to trouble for photographers. There's almost no market for photojournalism in the U.S. anymore, unless it's entertainment photography. My photos sell primarily to Spain, France and China.

T/F: Did you ever try entertainment photography?

King: Getty had me shoot Liza Minnelli coming out of the hospital once. I retired forty-eight hours later. I'd rather grow tomatoes than chase celebrities around trying to get their picture.

T/F: Tomatoes?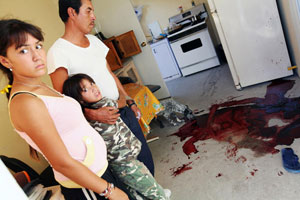 King: I grow heirloom tomatoes for sale at the market in Memphis, as well as to restaurants. My wife owns a jewelry store, so we end up doing alright, and I can still afford my trips to Juárez.

T/F: You're going back?

King: Oh, absolutely. I feel an obligation to educate people about the world we live in. It's a responsibility, I feel, as someone with a camera and a talent for journalism.

T/F: Tell me about your time embedded in Iraq. Blood Trail followed you for a while when you were there, and you clearly weren't digging it. Would you go back to Iraq?

King: In Iraq, I was embedded with soldiers who hated me. It was not in their interest to help me shoot good pictures, so I ended up shooting them sitting around burning shit. It's not my job to be a PR officer for the military. I'm very reluctant to go back to another embed. The soldiers in Iraq viewed me as some sort of a bleeding heart liberal, since I wasn't shooting for Fox, and that's what they're watching. When I go to wars, everything's collapsed. There's freedom to move and to cover what I want to cover. I don't need to bring my medical records or register with some authority.

T/F: You were in Haiti recently. What was that like?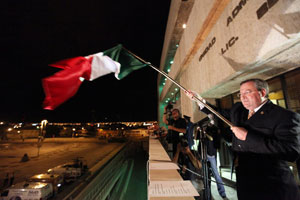 King: I'm surprised there hasn't been an uprising. People gone hungry for three months look for any way to get their voice heard. Who wants to subsist on government handouts? I know I don't. It's human nature. When you've gone hungry for three months, your hopes and aspirations for what the media's going to do for you fade away. In Haiti I got paid by NGOs, who then donated my pictures to newspapers. NGOs have never commissioned journalists before. Newspapers are really going broke and love a free story.

T/F: What's the status of the film?

King: The BBC requested the name be changed from Blood Trail to Shooting Robert King, partially to give it a second wind in the
festivals. The DVD came out on September 27th.

T/F: Do you think that watching yourself on the screen has changed you?

King: The film didn't really change me, but it did make me not talk as much. It's made me a little more self-conscious on camera. The film has kept my name out there as a photographer, which is important in a bad economy, but I wouldn't say that any assignments came out of people seeing the film. As a result of the film, however, my prints have become more collectible.
Video
The Frontline Club: Lessons on Shooting and being Shot at. Richard Parry and Robert King (Blood Trail) and Ian Olds (Occupation: Dreamland) share their war stories at T/F 2009.