Posted: 6/20/11
Leon Gast, is the Oscar-winning director of When We Were Kings and nine other documentaries. He is back in the ring with another boxer - with his camera, of course. Getting knocked-out by a member of Hell's Angels during the editing of a film he made about them was enough to keep him out of the sport himself. Gast's new film in production is about Manny Pacquiao, the Filipino boxer/politician.
Gast brought his latest film Smash His Camera about the notorious "king of the paparazzo" Ron Galella, to T/F in 2009. Gast talked with wT/F editor Elliot Reed over the phone a few months before it aired on HBO in mid-June.
T/F: So, another film about a boxer?
We started filming in late October. We'd been trying to figure out exactly what we wanted to do the month before. We have total access to him [Manny Pacquiao]. All his constituents want him to run for president, but he can't until age 35. We recently flew on his jet, a 757 which he leases from American (Airlines), and he brings along 150 close friends and political collections, entertainers and journalists from the Philippines. Ali had an entourage and they were always fooling around with each other. It was a small entourage and Ali took care of them all. Manny's got a huge entourage and he takes care of them all, except for the movers and shakers [the generals and politicians that fly with him, too]. I spent a couple weeks with him and this guy was so perfect, he could have been born in a manger. He's very kind and funny. Manny Pacquiao is a spectacular human being, so similar to Ali in so many ways. People are saying, "How can he win an election with so little experience? How can he be so bold?" Well, he has generals, serious politicians, and military people from the Philippines that believe he's got the goods.
T/F: That reminds me of the scene in When We Were Kings, the one with the plane full of rowdy musicians flying to Zaire to play what was later described as the "Black Woodstock."
The Vanya All Stars [Latin band, subject of Our Latin Thing] played their instruments on that flight all throughout the 15 or 17 hours. James Brown, BB King and his band were also on that plane. Some people wanted to sleep, and became offended. At a stopover in Madrid, Bill Withers got off, went and bought something threatening looking, like a fake plastic knife or something, came over the intercom and said, "My Latin brothers and sisters, I know you love your music, but if you don't stop for a minute I'm gonna slit somebody's throat" while waving that knife around. When they arrived in Zaire, one stewardess said to another, "This is the worst group I've ever served," and the other replied, "Yeah, next to one I served on a flight to Miami once." Well, of course, both were referring to the same group of passengers.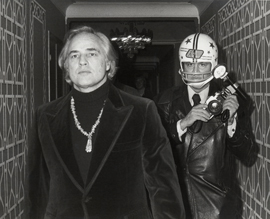 Marlon Brando and Ron Galella in a scene from SMASH HIS CAMERA, a Magnolia Pictures release
T/F: Tell me about your first documentary, Our Latin Thing (1972).
I was a still photographer. I did an album cover of the first Vanya All Stars album in '67 or '68. Then, I convinced Jerry Massoochi, president of Vanya records, that we should make a film about the music. The scene was really just starting to happen then, in '70 or '71. Latin music was just getting hip. Americans hadn't really heard Cha Cha or Mambo before then. I always loved the music. I wanted to do a film about the scene. I wanted people to get a sense of the music. If you went to Central Park, there would always be a Dominican or Puerto Rican near you playing. The Latin music was an intrusion. I wanted to show a sense of the culture that was behind the music. It was raw. Rolling Stone called Our Latin Thing "The best concert film since Woodstock, with the exception of Gimme Shelter," but now I'm being boastful. I wanted to re-edit it again, so I did another one called Salsa.
T/F: Your style in that film is really fly-on-the-wall, cinema verite. Your later films depart from that raw style of showing a thing, and tell more of a conspicuous, structured story. Our Latin Thing has little dialogue. Smash His Camera is mostly interview. Could you see yourself making another film in the verite style?
Yes. I tried for a little of that in Smash His Camera. I just watched a preview for Frederick Wiseman's Boxing Gym. He's got that same style and ran with it successfully, artistically, for 40 years or more. It happens to every filmmaker that they fall in love with what they're doing. They think it's always a masterpiece.
Audiences didn't like Ron Galella as much as I thought they would. They like the film, but not so much the guy. Just the other day, someone told me he came off as a "pushy guy." I think he's the price tag of the First Amendment. What do you think? Did you like him? Galella took pictures of John Gotti, New York mobster, who controlled a big family and murdered lots of people. Gallela took pictures of his wife, his kids, outside his house. He followed him to discotheques. Galella really has innocence about him.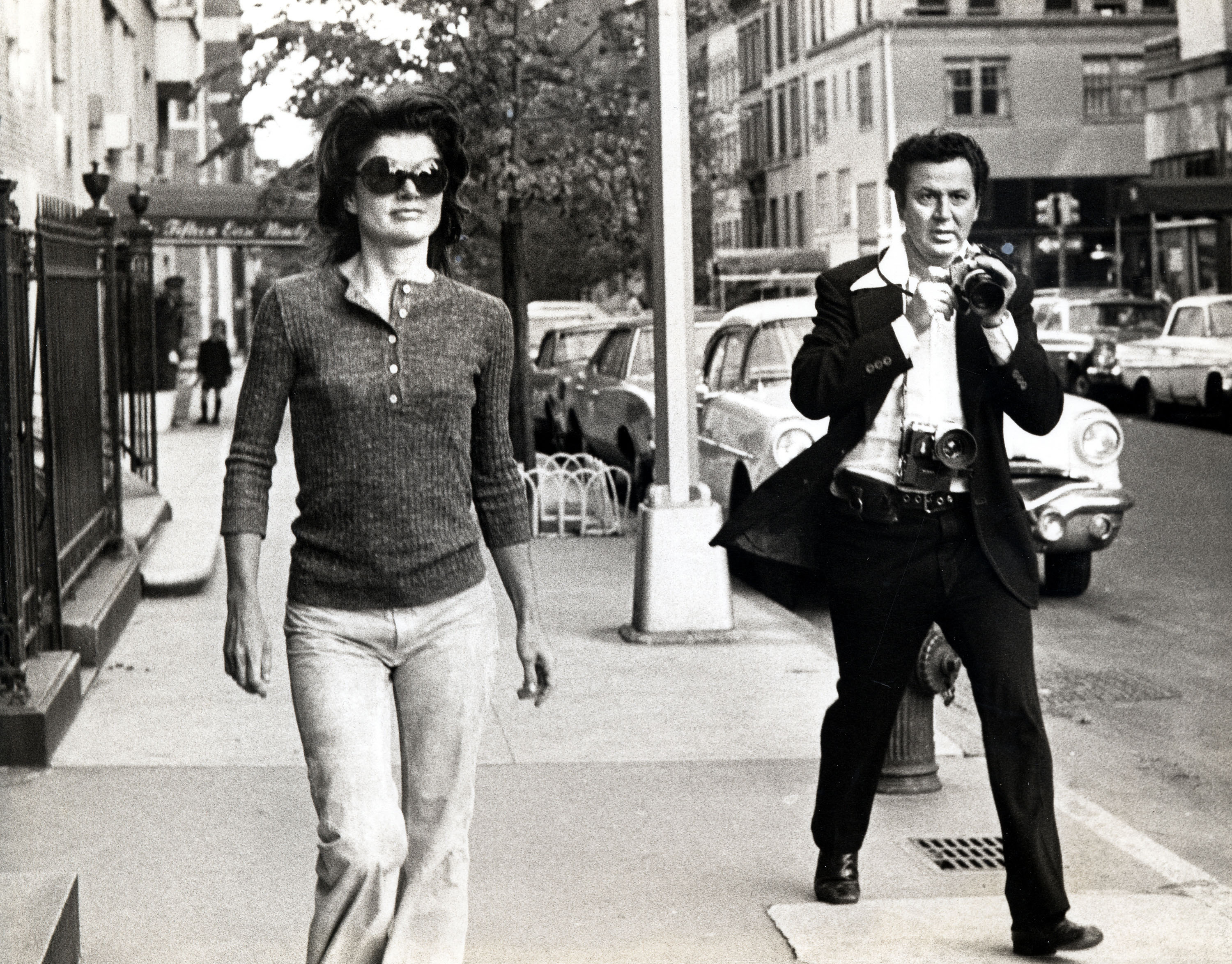 Ron Galella and Jackie O in Smash His Camera
T/F: In an interview you did with him, you called him an artist. You said an artist has to have a tremendous ego, be selfish, and also believe you're doing a noble thing. Would you call yourself an artist?
Never! Never ever! I don't know if even Picasso called himself an artist. The other day, I worked with two directors of photography on a shoot where they were using a cumbersome, fancy new HD camera. The camera didn't have a zoom lens, no auto-focus, and we're shooting a boxer running up a set of stairs, then he punches at the camera. I told these DPs "shoot beautiful stuff, what HBO and 60 Minutes aren't shooting," and they really did, even in that situation. Then, they're shooting sparring in the ring. I'm getting good audio because the mic's in a ring post. Manny wears a mic most of the time, recording audio for us. He never wears one when he's in the ring. Freddie Roach [Manny Pacquiao's trainer, who has Parkinsons disease] was wearing a mic for the first few days in the ring. Miraculously, when Roach gets into the ring, he stops shaking.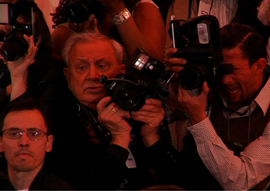 Marlon Brando and Ron Galella in a scene from SMASH HIS CAMERA, a Magnolia Pictures release
T/F: How much room for artistry is there in documentary film?
There really is room for artistry in documentary film. There is an art to documentary.
T/F: What about the films that blur the line between documentary and fiction? They seem to be coming out more these days, making what Robert Koehler has called, "A cinema of in-betweenness.
I welcome those films. I'm on a panel of people who watch new documentaries. I'm looking at eight shorts. All eight of them are wonderful films. I saw great documentary films at Sundance, Nantucket, and London this year. It begins with story telling. You have something to say that can be on the cutting edge of what's happening today, then you combine story telling and craftsmanship. Today, with little video cameras being around, documentary has developed as an art form. I don't see the line being blurred.
T/F: Which was the most challenging film for you to make?
Hell's Angels. It's a terrible film, like a primer for how you get to be a Hell's Angel. I got knocked out twice by them. Once on East 3rd Street in front of their headquarters. I got KO'ed in the editing room and then in my apartment on 86th street when they came by, it was about making changes. Somebody I was working with was bringing the Angels into the studio at night and would just show them raw footage of rushes. Then, they learned the word "cutaway," and they'd say "Well can't you…?". There was a scene of this girl dancing. An Angel pulls a knife, he lunges, and she's really frightened. She says, "If I can go home, I promise I'll come back in an hour." I didn't cut it out. They knew I could do a cutaway. They wanted all the N words out, but that was every other word out of their mouth. They came to my apartment, two of them. I opened up the door, the one guy, Howie, punched me, and he hurt his hand. He's really a piece of s*** when he's with… anyway, I don't want to go into that. They said "take that cut out, or we'll take you to California to Sonny Barger," and I said, "All we're trying to do is tell the true story of Hell's Angels! They said, "How ya' gonna do that when we won't let ya?"